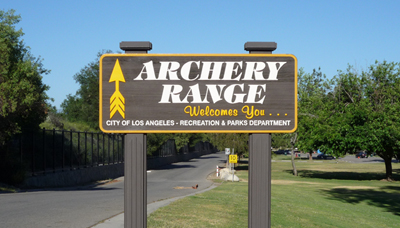 Register online for our Introductory and Returning Student classes! All students must be at least nine years old and must register and pay the $5 administration fee here as well as comply with our Covid-19 policy. For more information, see our Classes and Activities page.
The Woodley Park Archery Range is located in the San Fernando Valley, near the junction of the 405 and 101 freeways. The range is open from sunrise to sundown, seven days a week, except during WPA classes, activities and events (check the WPA Range Schedule for closures.) The range was founded in 1984 by the Easton Sports Development Foundation as a training facility for the Olympic Games, and is maintained by the Woodley Park Archers, the U.S. Army Corp. of Engineers and Los Angeles Department of Recreation and Parks.
For more complete information about the range, please follow this link. For directions and a map, please click here.
In order to sign up for a class you will need to create an account and provide some information.
Please sign in with one of your existing third party accounts. Or, sign up for a account and sign in below: